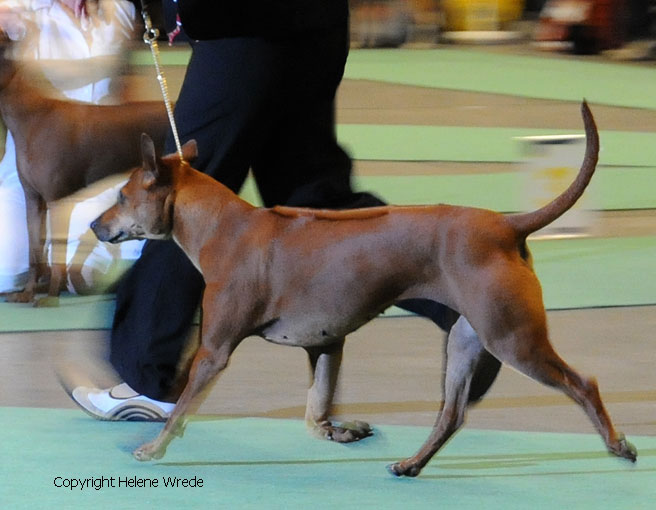 2008-07-06, Stockholm World Dog Show Paolo Dondina Italy, Excellent, Best Champion bitch and 2-Best Bitch with reserve-CAC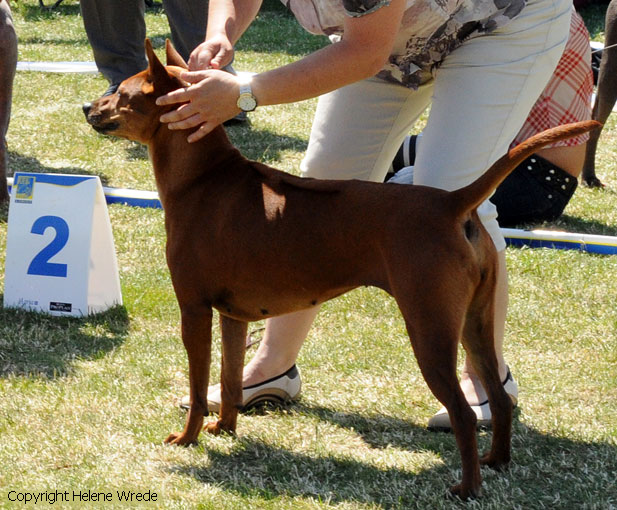 SSUK Show 5 July 2008 Tuva was too shy for our judge Apiwut Kasemsanta, Thailand. But she got lovely critic.
"Beautiful dark eyes, beautiful head and earset. Too low in the front. Good size, good rear. Beautiful ridge. Good coat condition. Moves well. To shy to showring"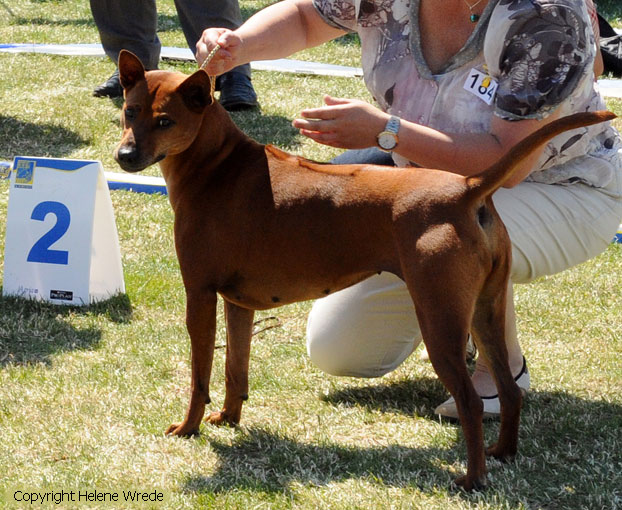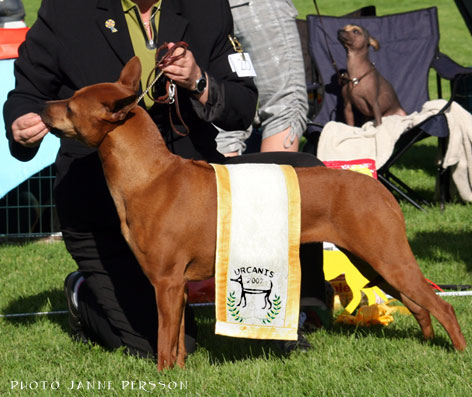 2007-08-25 URCANIS SPECIALTY, Ewa Nielsen, Swe, Excellent, BOB, BIS-3
"Gourgious entireness. Full of quality. Feminin beautiful head. Good ears and eyes. Correct ridge. Normal angulations. Moves with excellent steps from all directions. Could be, for me a little bit higher on legs. "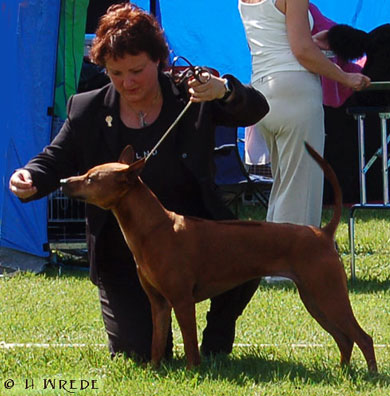 2007-05-20, Hässleholm nat, Hans Almgren, Swe, Excellent, CK, BOB
"Elegant but still vigorous bitch of excellent quality. Good length in head. Excellent jaws and bite. Beautiful neckline. Strong topline. Good depth of body. Good chest. A bitch in the smaller size but extremely wellbuilt. Strong bone and compact feet. Beautiful red colour. Excellent ears. Wellplaced ridge. Good length of steps. Very appealing entireness."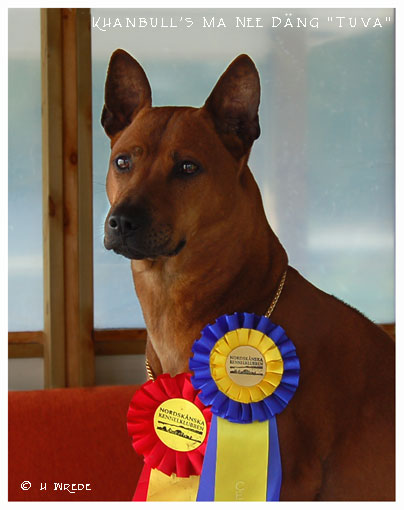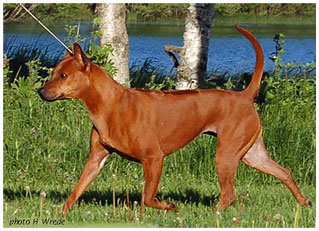 2007-05-19, Hässleholm nat , Marja Talvitie, Fin Excellent, CK, CC, BOB, Swedish Champion!
"Nice head with good expression. Good neck and very good body with the right underline. A bit low tailset. Right angulation in rear. Not fully coated right now. Moves flowingly!"

2006-09-09, Sofiero Int, Petru Muntean, Rum Excellent, CK, CC, CACIB, BOB
"22-months strong bitch in type. Strong body with right anatomy. Correct angulations. Correct ridgemarks. Very good coat, pigmentation and movements."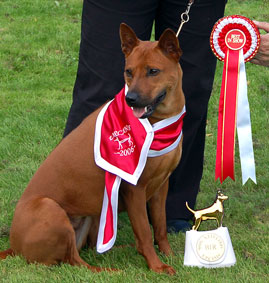 2006-09-09, Urcanis Speciality, Bengt-Åke Bogren Swe, Excellent, BOB, BIS-1 See URCANIS Speciality

"Very appealing bitch. Lovely model. Wellshaped beautiful head. Wellset ears. Suiting eyecolour. Good depth of chest. Very good angulations. Moves beautifully from the side. Slightly narrow in rear. Typical temperament for the breed. Beautiful coat and colour. Could have better ridge."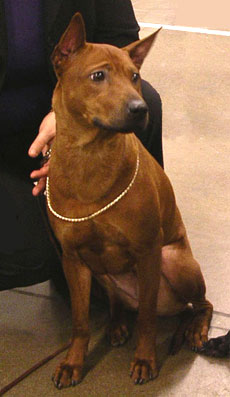 Tuva and her friend Bukki at My Dog in Gothenburg.
2006-01-06, My Dog, Gothenburg int, Torbjörn Skaar Swe, Very Good
"Very good head and expression. Wellshaped eyes. Wellset ears. Eneough neck. A bit long in body. Good angulations in front and rear. Moves with a good step but doesn't get the tail up. Needs more training for better movements"

2006-01-06, My Dog Gothenburg nat, Göran Bodegård Swe, Excellent

2005-12-17, Helsinki int, Leila Kärkäs Fin,
Excellent, CAC, BOB, Finnish Junior Winner 05, Finnish Winner 05
"Excellent, balanced and high qualitative entirety. Good head and beautiful expression. Beautiful ears. Excellent construction and bone. Good coat and ridge. Movement with beautiful and unhindered steps. Pleasing mentality but a bit hesitant in this situation. I wish that she would raise the tail a little bit."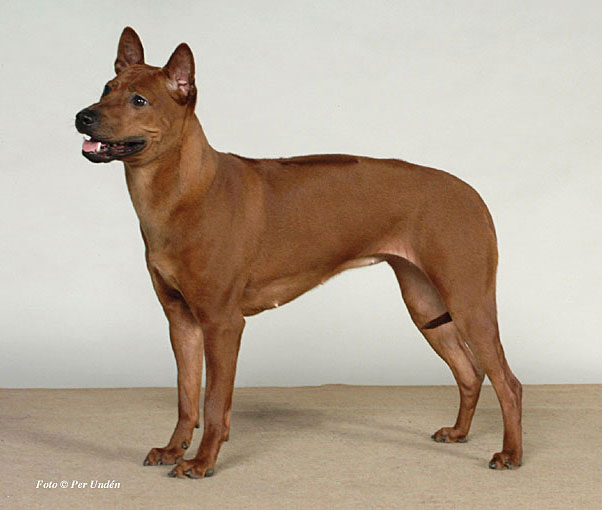 Swedish Winner 05, Photo Per Undén
2005-12-11, Stockholm int, Nils Molin Swe,
Excellent, CAC, BOB, Swedish Junior Winner 05, Swedish Winner 05
"Type and general impression Excellent. Mentality Accessible. Very promising Junior. Feminin wellshaped head with good nose and stop. Beautiful but a bit long topline. Very good angulations and movement."

2005-11-05, Växjö int, Nina Karlsdotter Swe, excellent
"Wellshaped feminin head. Very good eyes, ears and expression. Good neck and topline. Wellcarried tail. Well developed body. A bit long loin. Suiting bone. Eneough angulations. Nice coat."
Tuva did growl a bit when the judge examined her back that's why she didn't get CAC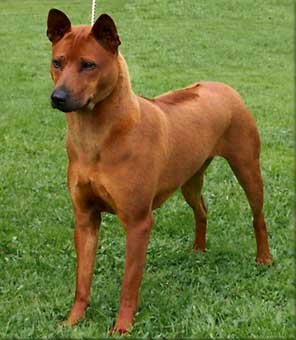 Photo Susanne Petersson

2005-09-10, URCANIS-speciality inoff (4 females, no male entered)
Boo Lundström, excellent, HP, 2-Best female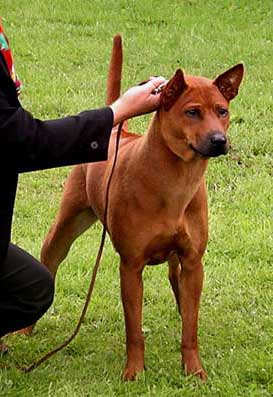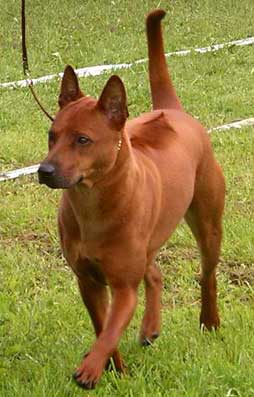 Photo Liz Starck
2005-08-14, Nyköping nat, Hans Almgren Swe, excellent, CK, CAC, BOB
"Wellbalanced bitch, 9 months. Very tight / austere lines. Feminine head. Strong jaws. Good bite. Excellent pigmentation. Beautiful neck, good lenght. Shoulders well laid back. Hocks well let down. Compact paws. Very deep saturated red colour, a little soft coat. Good deep. Moves vigorous with good steps. Right look and attitude! Promising junior!"

2005-08-13, Norrköping int Karl Erik Johansson Swe, Excellent, HP

2005-08-07, Ronneby nat , Paolo Dondina Italy, Excellent, HP, BOB puppy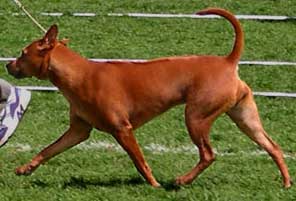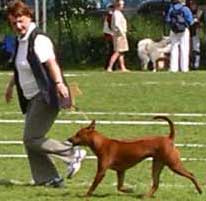 2005-06-18, Avesta, nat , Cindy Pettersson Swe, Excellent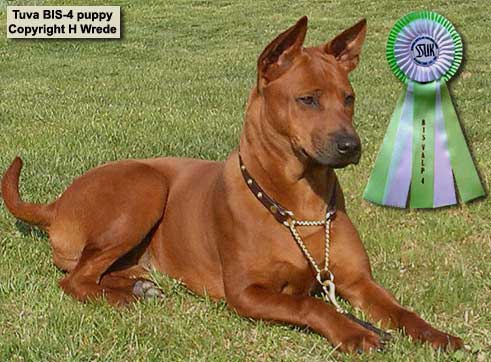 2005-05-22, Hässleholm, SSUK , Berit Foss Nor, Matti Touminen Fin
Exc, HP, BOB puppy, BIS-4 puppy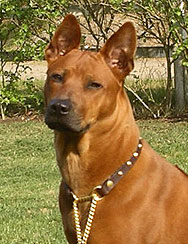 2005-05-21, Hässleholm, nat , Paul Scanlon Irl, Exc, HP, BOB puppy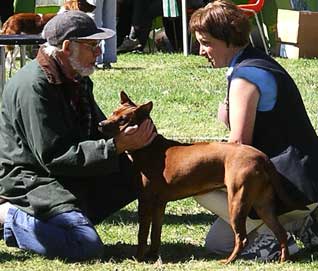 2005-05-05, Åseda, inoff, Boo Lundström, Exc, HP, BOB puppy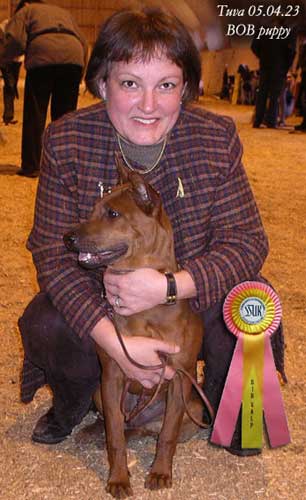 Photo Liz Starck
2005-04-25, Västerås, SSUK, Paul Stanton, Exc, HP, BOB puppy