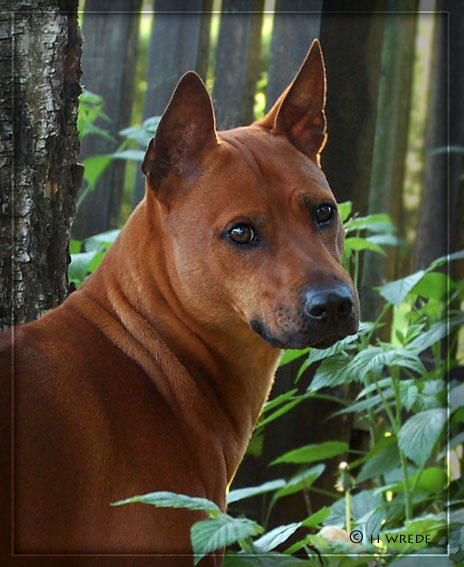 SweWinner 2005, FinWinner 2005
Swedish Champion, 2-best-bitch World Winner 2008
Khanbull's Ma Nee Däng - Tuva

Till minne av vår älskade Tuva

Vår vackra, underbara, uttrycksfulla och älskade Tuva, hunden med en alldeles otrolig personlighet. Tuva var enormt charmig och humoristisk. Hennes kärlek till familjen var enorm och speciellt jag, Helene betydde särskilt mycket. Hon uttryckte alla sina känslor till etthundra procent! Hon var alltid tvungen att hämta en liten "gåva" för att hälsa oss välkommen hem. Gåvan kunde vara en leksak, sko eller vad hon nu kunde hitta. När vi skulle gå ut på promenad hjälpte hon alltid till med att "kalla på" Lancelot genom ett par rejäla ylningar. Reserverad mot främmande men älskvärd och alltid i närheten av familjen, i soffan och och gärna sängen om hon erbjöds en plats under täcket.
Vi saknar dig så!
In loving memory of our beloved Tuva
Our beautiful, wonderful, striking and deeply loved Tuva! She had an absolutely incredible personality. She was enormously charming and expressive. Her love of the family was huge and especially for me, Helene. She expressed all her feelings to one hundred percent! She always had to fetch a little "gift" to greet us, welcome home. The gift could be a toy, shoe, or whatever she could find. When we would go for walks, she helped us "call in" Lancelot by a couple of good howls. Reserved with strangers but always lovable and close to the family, in the sofa or bed if she was offered a place under the bedquilt.
We miss you so much!