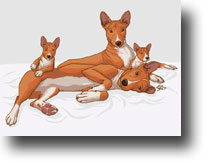 I did'nt paint for many years until now. I was so curious if it was possible to paint basenjis in watercolour. So here┤s the result.
As you see I put other Basenjipaintings here, that are made from other Basenji lovers.
If you have a painting that you would like to share, send me photo by email!